Before There Was Salsa

We make salsa. But that wasn't always the case.

It all began in 1975 in San Saba, Texas; the Pecan Capital of the World. Eddie & Brunhilde Sanderson opened a small retail store – selling pecans and snack foods to townsfolk and hunters traveling to the hill country for deer season. Over time, they expanded their menu to include authentic Texas favorites – family recipes passed down and perfected over generations. Local fandom inspired Eddie & Brunhilde to take their dishes on the road – entering cooking competitions all over Texas. Their confidence and their cooking was rewarded with big wins at cook-offs and festivals for everything from chili to pinto beans and wild game to pecan pies. With a few gold medals and first-place titles under their belts, they had the swagger to branch out. So they made a curious, but not a totally crazy choice. They started making salsa.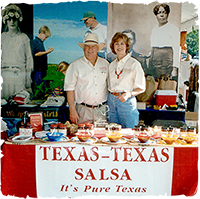 Texas Texas is Born

Salsa isn't just authentic Texas cuisine. It's also the official state snack of Texas. And when Eddie & Brunhilde moved to Austin in the mid-90s, they were intrigued [and somewhat disappointed] with the overabundance of hot salsas. Most of these hot salsas were either so hot that you couldn't actually taste it or had absurd names on goofy labels. But they saw an opportunity to turn yet another family recipe into a business venture. They wanted to fill a void in the market with a handcrafted salsa – using only premium ingredients and the sweetest-tasting tomatoes. Their mission was simple: "Win you over with flavor, not kill you with heat." And their name was simpler: "Texas Texas," meaning twice the love.

In 1997, Eddie came home with their first pallet of salsa in the back of his pickup truck. He started selling to boutiques, gift shops, BBQ joints, and small mom and pop shops. It was a simple, honest, person-to-person approach, but it wasn't a booming strategy to sell their first 112 cases. What changed everything was the Austin Chronicle Hot Sauce Festival. After being in business for only three months, the salsa won first place as the People's Choice Award. It validated their vision and set their small family business on a new trajectory. With credibility firmly established, Texas Texas Premium Salsas soon landed on shelves at big retail stores.
The Next Generation Takes Over

Eddie Sanderson wanted to build a successful business that could become a legacy, multi-generational family business. In 2013, Eddie retired and passed the torch to his son; our current founder, Brian Sanderson. "It's with great pleasure and pride to say that I am not only preserving my dad's legacy, but also perpetuating his dream," says Brian. "We're still making our salsas in small-batches – using the same ingredients and still personally taste-testing every batch. Why? Because I share my dad's passion, pride, and desire to offer the world the best our family can make."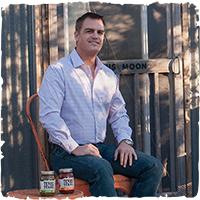 Founder Passes Away

Eddie passed away on April 17, 2018; just 3 days shy of his 75th birthday. He was Texan in the truest sense; big ideas, bold attitude and friendly to everyone. He worked countless hours at stores – sampling salsa to everyone who walked by him. He was fun, witty, and impossible to dislike. Although Eddie is no longer with us, his spirit, commitment and values are still alive and strong throughout his family.
25 Years of Flavor & Fun

25-years ago, our family developed a premium salsa from a recipe that was uniquely our own. Our winning recipe was simple; use the best tasting ingredients, sample every batch, and obey our motto, "we're going to win you over with flavor, not kill you with heat." While we attained special skills and knowledge over many years of developing new recipes, it was those three ingredients that enabled us to continue setting the bar for developing deliciously creative, award-winning salsas.

Some things have changed over the years like our labels, more offerings, and a 2nd generation running the business. However, the one important thing that hasn't changed is we're still family-owned and that's not going to change. That means our products still get the same focus, interest, and desire as they did 25 years ago.

It's important everyone knows that every jar of salsa or sauce sold is a way we express our love for our craft and that forges new connections for us. We believe that is a key difference that separates us from all the big corporate brands. So, the next time you're enjoying Texas Texas, know that our family greatly appreciates your business and values you as a customer.